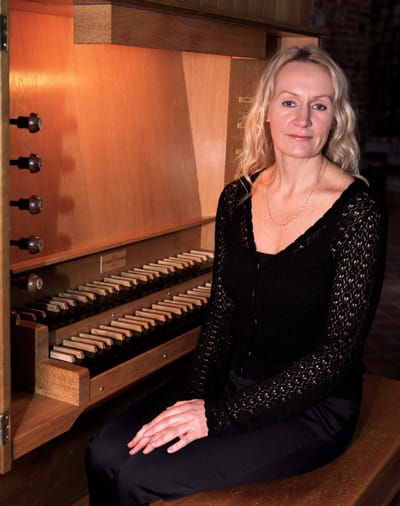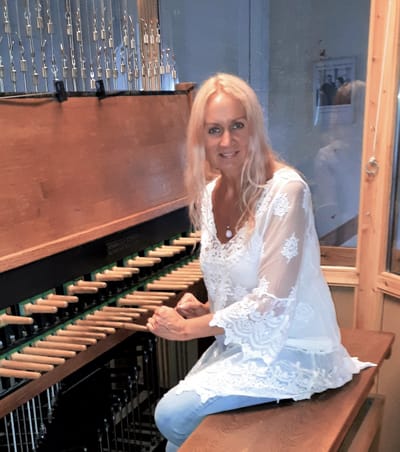 Merle Kollom in Estonian organist, carillonneur, and producer. She has worked as the organist of the Äksi Andreas Church, the head of the concert department at the H. Eller Music College of Tartu, the music producer of the Estonian state concert institution Eesti Kontsert (Estonian Concert), the project manager of local and international culture projects, as a producer of radio shows, documentaries and CD/DVD productions. She has participated in continuing programs of culture policy and management in the USA, Sweden, Norway, Finland and Germany.
Merle Kollom holds a Master of Arts degree in organ pedagogy, a Bachelor in church music and theology. She graduated the Scandinavian Carillon School under the tutelage of prof. Peter Langberg in June 2019, becoming the first carillon professional in Estonia. As a carilloneur, she has performed in Denmark, Norway, Belgium, Germany, The Netherlands, Switzerland, France and at the new carillons opening ceremony of St. Nicholas Church in Kiev, Ukraine. She has performed in carillon-promotional concerts with the jazz group Trio X of Sweden at the Uppsala Concert and Congress Hall, with Estonian leading instrumentalists, the saxophonist Lembit Saarsalu, the accordionist Jaak Lutsoja and the Spanish tenor Germán Gholami.
Merle Kollom is the artistic leader of the Tartu Town Hall carillon since 2001. In 2016 she was leading large renovation and extension works of mentioned carillon in cooperation with the Royal Eijsbouts Bell Foundry, and this project was awarded as "The action of the year 2016 in Tartu". She has promoted carillon art on several radio and TV shows, has produced documentaries about the Tartu Town Hall carillon, and initiated the 1st Estonian carillon tunes contest in 2017. In 2018 (European Year of Cultural Heritage) she started with carillon promotional concert-lectures called "500 hundred years of musical secret".
As an organist, Merle Kollom has participated in symphony orchestra and choir productions, in unique ensembles and crossover projects. She has cooperated with various acknowledged Estonian soloists, German vibraphonist Volker Frischling, American jazz vocalist Eve Cornelious among others. In the summer 2012 she debuted in Finland in an uncommon voice-saxophone-accordion-organ ensemble called Ex Improvisio Quartet.
Tuija Keinonen, Estonian Honorary Consul in Finland:
"The unique ensemble worked together in a wonderful way. The concert of Ex Improvisio was like a fresh breeze, influential, even a meditative musical experience!"
As a producer, Merle Kollom has initiated several concert series and festivals on both local and international scale, produced more than 2000 concerts from classical chamber music to jazz ballet, including a world premiere of the jazz opera "Manon" composed by "the cornerstone of Nordic Jazz" - Heikki Sarmanto (Finland), a gala concert of the 375th anniversary celebrations of Tartu University, honored by the presence of Queen Silvia of Sweden. Merle Kollom has cooperated with many jazz giants such as the legendary singer Freddy Cole, pianist Monty Alexander, Hammond B3 organist Dr. Lonnie Smith, the vocal quartet The Four Freshmen among others. In 2003 Merle Kollom was awarded as "Person of the year" by Estonian Concert.